Essential. An adjective meaning absolutely necessary; extremely important.
When we tell you Bret Giese is an essential part of our game day operations crew, we mean exactly that. Giese, who has served as the Skyforce 3Play Coordinator in the broadcast booth since the position was created during the 2013-14 season, does a little bit of everything on game nights to make everyone else's life easier.
What Giese does as 3Play Coordinator alone is impressive. It's his job to stay on top of the action. To see every play, from every angle, and choose which one is best for in-house replays, broadcast cuts and post-game highlights.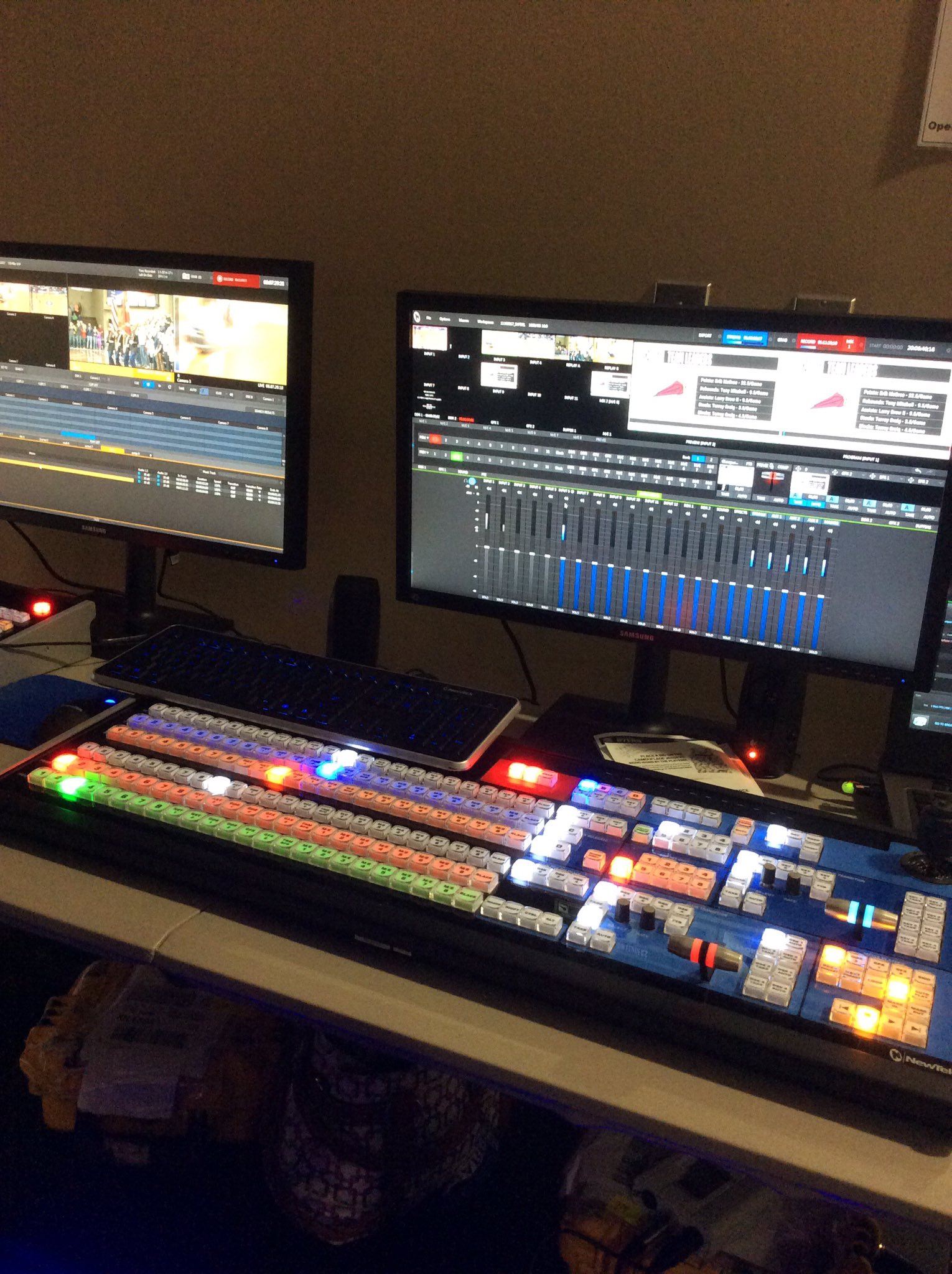 "It's a lot of multitasking," said Giese. "I'm watching five angles at once and deciding which is the best for highlights, or to help make sure a call is correct, and at any time our director might say she wants to see something again."
His job doesn't stop there, however.
Have you ever experienced an Official Replay? A Coach's Challenge? In most cases, a timeout is taken and the game comes to a crashing halt as referees confer at the scorer's table, re-watching footage of what just happened on the court. Who are they talking to on the headset? Who are they asking to show them different angles, different speeds, different shots? It's Bret Giese fulfilling those requests from the press box, and what he's able to provide in those circumstances can be game-changing.
What Giese does during the game is extremely important, but it's what he does before and after the game that makes him so irreplaceable. He's the first game day employee to arrive each night, and he and TriCast Director Kelsey Buchholz are the last ones to leave.
Giese does hours of work setting up camera equipment, running cables, troubleshooting connectivity issues, making sure the headsets for the baseline cameras and replay monitor are functioning properly, and getting in-game programs up and running.
No game day employee spends more time at the Sanford Pentagon than Giese, and it's not just for Skyforce games.
"When I'm not working, I like to work," said Giese. "It's a weird statement, but when you work for the Premiere Center and the Sanford Pentagon, in addition to doing Augustana University and Skyforce games, it makes sense."
We asked Giese what he liked to do during his free time. We asked him what his hobbies were. What was his response?
This.
It's no wonder he can put up with the high-octane, somewhat overwhelming atmosphere of his position with the Force. He does it on an almost-daily basis working other events around Sioux Falls. He never slows down, and he doesn't want to. For him, it's an opportunity to get paid to watch and be a part of the sports that he enjoys most.
"I'm a big sports fan," said Giese. "So if I get to get paid to work sporting events, that's a big bonus."
It's almost game time!!! This will be a ton of fun. @SanfordPentagon #GonzagaVIowa pic.twitter.com/n4csDVIo49

— Bret Giese (@BretGiese) December 19, 2020
We finally got him to admit he also enjoys binging some good TV shows and movies in his down-time. He also has a dog (JR) that holds him accountable in spending some time at home every once in a while.
Even though Giese finds time to work hundreds of sporting events over the course of the year, he still has an "actual day job" that he excels at and enjoys as well. Giese works as a Producer/Editor at ICAN Advertising, producing and editing TV commercials for small businesses in Eastern South Dakota as well as Western Iowa.
"I love that it lets me be creative and help the little guy," said Giese. "Most of the businesses that I do commercials for are just trying to get the word out that they exist. It's always great to hear back from them saying that people have seen their commercial and they're much busier than they were before."
Videos. Replays. Editing.
The theme is not so subtle. Giese has video work down to a science. It's something he now lives and breathes since being a part of the University of Sioux Falls' Media Studies program. A platform that's set him up for many of the positions he now holds today.
"During my sophomore year [at USF], a part of my work study was to be part of the video board crew at the football stadium," said Giese on when he first got into video production. "The next year, Brett Hansen and Chad Hunt (representing the Skyforce at the time) came to one of my media classes looking for people who would be interested in being a part of their film crew. I have been with the Skyforce ever since."
Now nearly a decade later, Giese has fine-tuned what he's able to do on game nights.
"I was incredibly intimidated at first," said Giese. "I was always afraid that while I was looking back at the previous play, that I would miss what was going on live. After a while, though, I figured out a system and now it feels more like I'm on auto-pilot."
However, though Giese has mastered his craft, it's not always fun and games. The job still gets stressful. There are still times where things go into scramble mode. The pace of an NBA G League game can be difficult to keep up with as a viewer, let alone keeping up with five angles of the action as a replay guru.
"It gets most challenging when I'm trying to play catch-up," said Giese. "The pace of play can get really fast and when you have to look at each play a couple of times, you can miss a couple of baskets here and there. It starts to snowball, and next thing you know, you've missed the last two minutes of gameplay.
"Sometimes I wish I could call timeout, just so I can catch up a bit. I have a workflow that usually doesn't get me too backed up, but it doesn't always work."
It's Giese's own standards that put pressure on him throughout the game, though. For the average viewer, and even to those within the Skyforce organization, it's unnoticeable.
Cool, calm, and collected. That's the attitude and personality that Giese brings to the Skyforce broadcast crew. Even if he's frazzled, he's a reliable rock that the rest of the crew can lean on. The crew, from Giese's viewpoint, is the best part of the job.
"We've grown into this weird sort of family that loves to have a good time, sometimes at each other's expense," said Giese of working with his fellow broadcast crew members. "If you ever had the chance to listen to our headset chatter for even five minutes, you'd understand just how much we like being around each other and how well we work together."
Both the Miami HEAT and the Sioux Falls Skyforce organizations pride themselves on being more than just co-workers. More than just employees. More than just players on a court practicing together. Everyone in the organization is part of a greater family. The Skyforce broadcast crew is no exception. With so many hours spent at each other's sides, it's only natural.
"While we may joke around, especially on SD Corn Night, when the game gets close or when something big happens, all of that joking goes away and we get the job done," said Giese. "I've been on crews where it's all business and no fun. Somehow, I think despite all of the fun we have, we do a great job and I'd put our broadcast up against anyone in the league."
When a job is fun, when it's something you're passionate about, when you're doing it with people you love to be around, it becomes less like a job and more like a pastime. For Giese, that perspective is evident.
So after hundreds of games worked and nearly 10 years in the video profession, what are some of Giese's favorite memories since becoming a part of the Skyforce broadcast crew?
His answer is similar to many other long-time staff members, only he got to enjoy it from a slightly different perspective. The 2016 NBA G League Finals serves as one of the best Skyforce experiences in recent history. Many game day employees worked the game, but with HEAT TV in town and ESPN bringing in its own broadcast crew, the Skyforce broadcast team got to enjoy the 2016 Finals as fans.
"My favorite memory is being in the stands for the championship game in 2016," said Giese. "I rarely get to sit back and be a fan at a game, but after seeing that team run through the league all season long, it was great to see them win that title and experience the emotions the crowd had that night.
"We all still would've had fun working that night but seeing the team you know so well win it all is just different from the stands."
Giese means more to the crew and the organization than he'll readily admit, but the crew means a lot to him as well. Now seven seasons into his job as 3Play Coordinator, only missing one or two games in that span, working next to some of the same great people year after year, it's the people, Giese says, that keep him coming back.
"Being a basketball junkie helps, but it's the crew that I work with," said Giese. "Kelsey Buchholz and I have been working together now for seven years and neither of us miss any games…We don't just show up and only talk about the game or the production, we talk about our families, our jobs, our other interests."
Skyforce game day employees across all departments, whether it's broadcast crew, game day operations, the control room, working at the scorer's table…all have built lasting relationships with those they work around. At the end of the day, that's what it's all about.
"[Kelsey and I] have always said that if one of us leaves, the other one will as well," said Giese. "Just because it would be too weird to work a Skyforce game without the other. That's not even mentioning the fact that I met my now fiancé, Christine Ellenbolt, who works in the videoboard control room, when I first began working for the Skyforce. If that doesn't get the point across that we're more than just a random group of colleagues, I don't know what will."
Though the Skyforce would like to take credit for the dynamic duo that is now "officially" Bret Giese and Christine Ellenbolt, it was probably the thousands of other sporting events both have worked in the Sioux Falls area that allowed them to build on that connection.
Rest assured, whether it's Giese, Ellenbolt, Buchholz or any of our other essential staff, they're not going anywhere anytime soon for as long as we can help it.
Next time you see someone in a Skyforce pullover running down the steps to check on one of the cameras, diving under the scorer's table to troubleshoot an issue with the referee's replay monitor or headset, jumping onto the back of the basketball hoop stanchion to double-check everything's plugged in properly, it's probably Bret Giese.
Normally we'd ask you to stop and say hello. To thank him for all that he does for the Skyforce organization. However, chances are, if you see Giese running around on game nights, there's something extremely time-sensitive going on.
In this case only, save your midwestern charm for after the game.